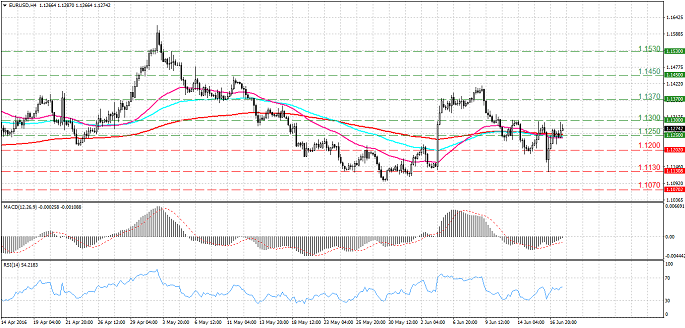 General overview
We noticed a growth of risk appetite last Friday. However we do not believe the euro will grow. It may fall against the pound, if the UK decides to stay in the EU or if the UK decides to stay in the alliance the euro may fall in other pairs.
Current situation
The pair remained in a downside channel. Even though the pair made attempts to grow it failed to break the trend line. The indicators recommend short positions. Any growth above 1.1300 should be considered corrective. The resistance is at 1.1300, the support come in at 1.1250.
MACD is in the negative area. The indicator grew that indicated the current correction If MACD returns to a decrease there will be a sell signal. RSI is growing, it is also a buy signal. The Moving Averages (50, 100 and 200) are parallel to each other. There is a crossover on the Moving Averages. The Moving Averages direction is horizontal.
Trading recommendations
The pair is still under pressure. If the level 1.1250 is broken downwards the price will decrease to 1.1130. Alternatively we may see a growth to 1.1400.