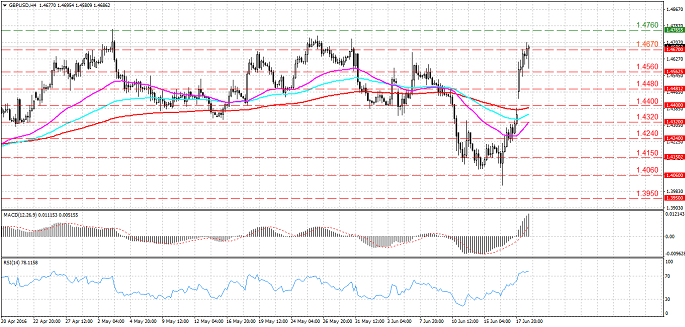 General overview
On Monday, the pound strengthened against other major currencies when fears that the UK may leave the European Union weakened. The latest poll results revealed that the number of Britons who prefer to stay in the EU is more than the number of those who want to leave it.
Current situation
The pound reversed last week and continued growing this week as well. The pair set a new local high at the mark of 1.4700. According to the daily chart the resistance 1.4670 is a strong level where the price reverses several times. The resistance is at 1.4670, the support come in at 1.4560.
The pound grew to the upper boundary of the descending channel. The price is above the Moving Averages (50, 100 and 200) on the 4 hour chart. The Moving Averages are turning upwards.
MACD grew into the positive area that supported the current correction. If MACD stays in the positive area the growth will be continued. RSI is in the overbought level of 70. The oscillator will show a buy signal until it stays in the overbought area.
Trading recommendations
The resistance 1.4670 limits the growth of the pair. This is a strong level which the pair could not break since February, 2016. If the pair breaks the level the growth will be continued. Otherwise we will see a return below 1.4400.