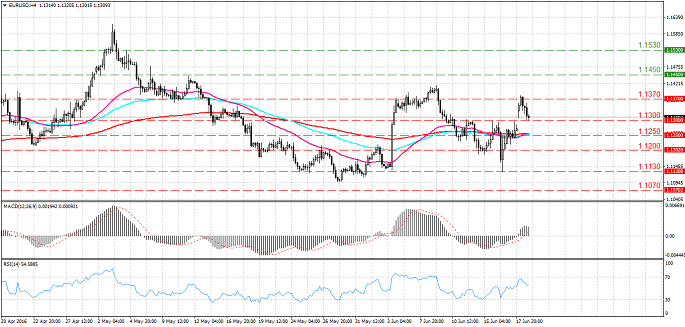 General overview
No important news were published on Monday and only Neel Kashkari's speech (the Fed representative) was the focus of our attention.
Current situation
The Monday trades started with a growth. The pair grew to the upper boundary of the descending channel. The indicators recommend short positions. The resistance is at 1.1370, the support come in at 1.1300.
MACD is in the positive area. The indicator grew that indicated the current growth. If MACD returns to a decrease there will be a sell signal. RSI is close to the overbought area. The growth into overbought area will give us a buy signal. The decrease of the signal line will give us a sell signal. The Moving Averages (50, 100 and 200) are parallel to each other. The Moving Averages direction is horizontal.
Trading recommendations
The pair is still under pressure. The bulls' attempt to change the market failed. If the level 1.1250 is broken downwards the price will decrease to 1.1130. Alternatively we may see a growth to 1.1450 – 1.1500.