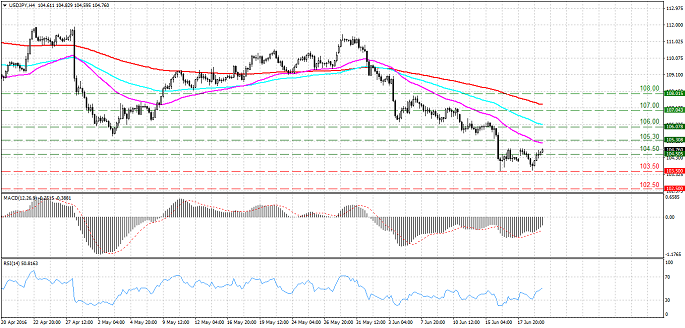 General overview
The yen fell against the US dollar after a significant strengthening the other day. The Yellen's speech supported the dollar yesterday. Besides, the decrease of the risk appetite lowered the demand for the "safe haven" assets when fears that the UK may leave the European Union stepped away.
Current situation
The USD/JPY remained in a downside channel. We see a technical correction right now. The dollar was growing yesterday and returned some of its previous losses. The resistance is at 105.30, the support is at 104.50.
MACD grew, there was a buy signal from the indicator. RSI is in a neutral zone giving no signal.
The pair USD/JPY is below the Moving Averages (50, 100 and 200) on the 4 hour chart. The Moving Averages are moving downwards that is a sell signal.
Trading recommendations
We believe the pair will recover to the area of 105.70 – 106.00. Alternatively it will decrease to 103.50.