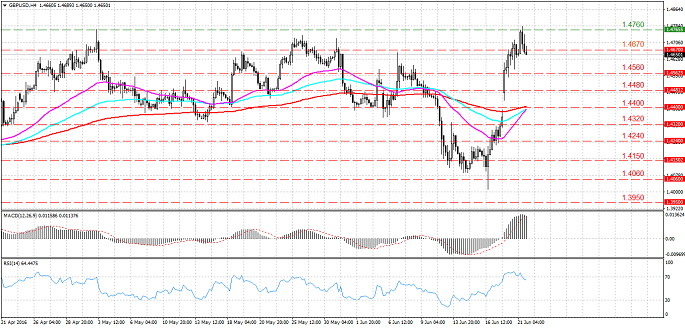 General overview
The pound received support from the latest poll which had showed the growth of Britons who wanted to stay in the EU. The pair set a fresh seven-week high against the dollar. Public Sector Net Borrowing also supported the national currency.
Current situation
The pound reversed yesterday from the seven-week high when investors began closing long positions. The pair fell from the level 1.4760 to the next support at 1.4670. The price ended the trades in the area 1.4620. The resistance is at 1.4670, the support come in at 1.4560.
The price is above the Moving Averages (50, 100 and 200) on the 4 hour chart. The Moving Averages direction is upwards.
All indicators are overbought. MACD is in the positive area. The histogram decreased that supported the current drop. If MACD decreases further the pair will fall further. RSI left the overbought level of 70. The oscillator will show a sell signal until it stays below the overbought area.
Trading recommendations
As we predicted the resistance 1.4670 did not let the pair to grow. This is a strong level which the pair could not break since February, 2016. The first target is 1.4560. We believe that the break below 1.4560 should send this market looking for the 1.4400 level.