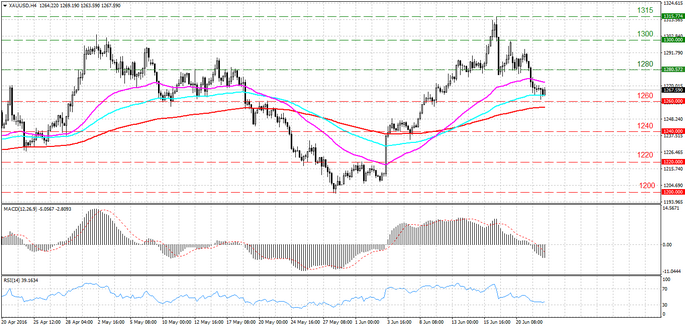 General overview
The referendum in the UK is the main topic in the markets. The parity between the supporters and opponents of the Brexit had a negative impact on the precious metals.
Current situation
The pair remained at the recently reached level. The gold futures consolidated yesterday. The XAU/USD spent the day between 1260 and 1270. The resistance is at 1280, the support is at 1260.
MACD decreased in the negative area. If the histogram remains in the negative area the decline of the price will be continued. RSI approached the oversold area. If the price gets into the area the decrease will be continued. The price broke the 50-SMA and stopped at 100-SMA.
Trading recommendations
The price can grow to the resistance level of 1280. We do not exclude the falls to 1260.