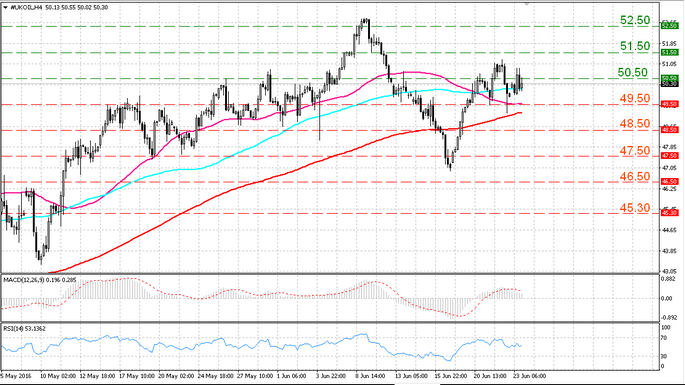 General overview
The Brent crude oil prices rose on Thursday. Investors were cautious due to the referendum in Britain. The oil futures recovered from the deepest drop to the 13 year lows. The decline in production of shale oil in the USA supported the instrument.
Current situation
The oil quotations strengthened yesterday. The quotes were able to grow and almost reached the previously set highs. The resistance is at 50.50, the support is at 49.50.
MACD remained in the positive area. The histogram grew that confirmed the current growth of the quotes. MACD shows a divergence signs. RSI remained near the overbought level. If RSI declined that will be a sell signal. The Moving Averages (50, 100 and 200) are below the price.
Trading recommendations
The buyers need to break above 50.50 for a steady growth. The way to the marks 51.50 and 52.50 will be opened after this breakthrough. If the price falls it will get to 49.50 and 48.50.