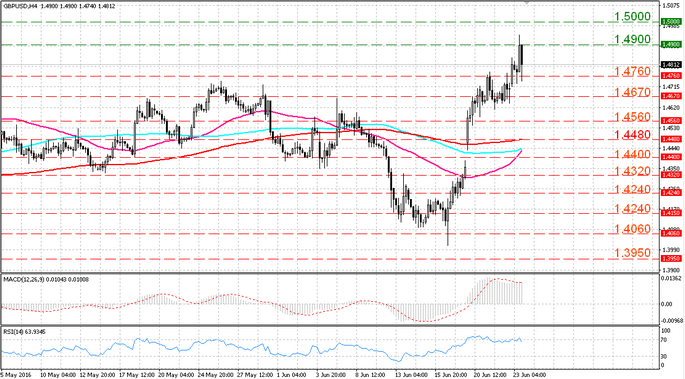 General overview
The British currency rose on Thursday after receiving preliminary information regarding the referendum. The number of EU supporters was bigger than the number of their opponents. That news supported the pound. The referendum results will be announced on Friday morning.
Current situation
The pound received some support from the news flow and scientifically grew. The pair grew by 0.80%. The instrument set a new high at the mark of 1.4947. The resistance is at 1.5000, the support comes in at 1.4900.
The price is above the Moving Averages (50, 100 and 200) on the 4 hour chart. The Moving Averages direction is upwards.
All indicators remained overbought. MACD is in the positive area. The histogram grew. If MACD decreases the pair will correct downwards. If the indicator remains in the positive area the growth will be continued. The MACD shows signs of the divergence. RSI remained below the overbought level of 70. The oscillator will show a sell signal until it stays below the overbought area.
Trading recommendations
The pair is going upwards. The bulls' target is the level 1.5000. If the price falls it will get to the level of 1.4400.