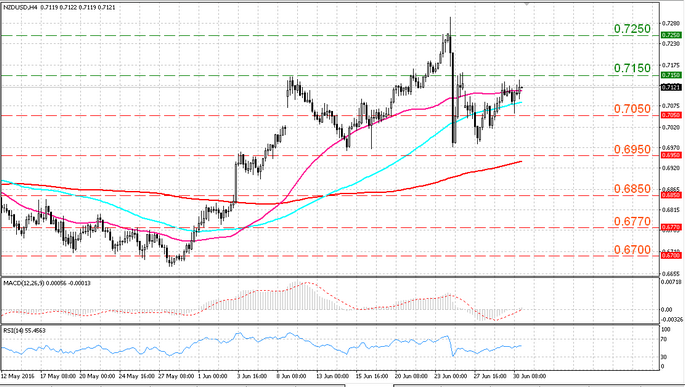 General overview
Despite the fact that the dollar is largely won from the risk aversion that happened due to the Brexit the weakened expectations that the Fed would hike the interest rates this year limited its growth.
Current situation
The kiwi slowed down its recovery and stopped at the mark of 0.7140. The instrument fell at the Asian session, and then recovered during the day. The resistance 0.7150 limits its further progress. The pair is within a short-term upward channel. The resistance is at 0.7150, the support comes in at 0.7050.
MACD moved into the positive area. The indicator shows a divergence. MACD will give buy signals if the histogram grows. Conversely, if MACD decreases that will be a sell signal. RSI approached the overbought area, that is a buy signal. The NZD/USD is above the Moving Averages (50, 100 and 200) on the 4 hour chart. The Moving Averages are moving upwards, that is a buy signal.
Trading recommendations
The buyers need to break above 0.7150 for a steady growth. The way to the mark 0.7250 will be opened after this breakthrough.