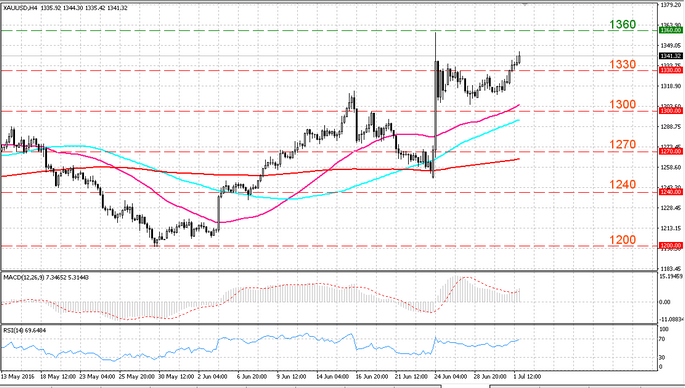 General overview
The price grew on the weakening of the US currency. A cheap dollar traditionally has a positive effect on the price of gold as it makes it cheaper for holders of foreign currencies. In addition, the UK decision to leave the EU had a strong influence on the price of gold.
Current situation
The gold slightly grew last Friday amid the weakening of the dollar. The instrument was able to set a new local high at 1341. The resistance is at 1360 now, the support comes in at 1330.
MACD is in the positive area, its histogram grew, that is a buy signal. RSI remained close to the overbought area. If the signal line gets into the area the growth will be continued. In the scenario where the oscillator falls we will get a sell signal. The price is above the Moving Averages and their direction is upwards.
Trading recommendations
The potential decrease targets are two levels of support: 1330 and 1300.