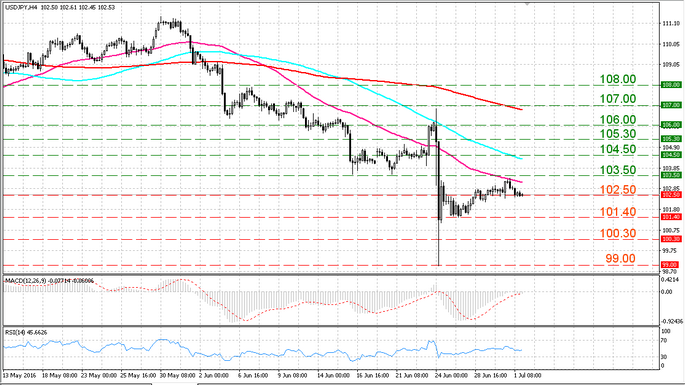 General overview
According to Japanese government the consumer prices continued to fall that caused a weakening of household spending in May. This creates additional pressure on the Bank of Japan which is dissatisfied with the current strengthening of the Japanese yen.
Current situation
The instrument decreased from a local high. The pair tended to return below 102.50. The resistance stands at 103.50, the support is at 102.50.
The growth of MACD slowed down. The indicator remained in the negative area, that is a sell signal. RSI is in the neutral area, the oscillator does not give signals. The USD/JPY is below the Moving Averages (50, 100 and 200) which are moving downwards. The pair tested the 50-day moving and bounced downwards. The 50-day moving is the closest resistance for the pair.
Trading recommendations
If the price fixates below the support 102.50, it may continue the downward trend in the short term. The potential target is 101.40.