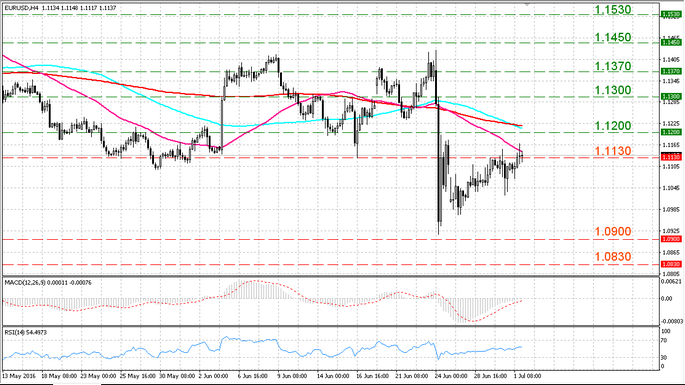 General overview
The international rating agency S&P decided to decrease the EU rating to AA level due to the Brexit. The published Business PMI in the Eurozone came in better than traders expected; as a result the euro was able to strengthen against the dollar. On Monday, the US markets will be closed amid a national holiday – Independence Day.
Current situation
The EUR/USD showed a mixed dynamic last Friday. Even though the pair grew its growing impulse faded away by the end of the trades. The euro was able to break the mark 1.1130. However it did not have strength to move higher. The new local high is at 1.1167. The level 1.1160 and the 100-day moving average limited growth of the pair. The Moving Averages (50, 100 and 200) are moving downwards, that is a sell signal for now. The resistance stands at 1.1200, the support lies in at 1.1130.
MACD remained in the negative area, its histogram decreased, that is a sell signal. RSI is in the neutral area; the indicator does not give a clear signal.
Trading recommendations
A move above the resistance 1.1130 will open the way towards 1.1200. If the instrument moved down there will be a high chance to reach 1.1000.