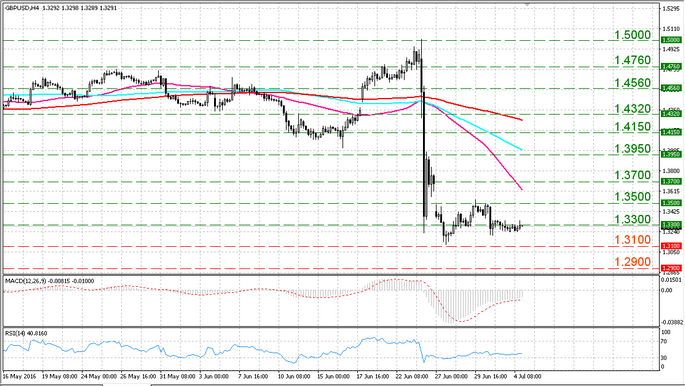 General overview
Construction sector activity in the UK unexpectedly fell in June to a seven-year low. That news added additional concerns that the British economy slows down after the Brexit referendum.
Current situation
The pair traded at the previous week close levels. The price spent the day in a narrow flat within 1.3330 – 1.3230. The resistance is at 1.3300, the support comes in at 1.3100.
Indicators remained in a red zone. MACD is in the negative area, the histogram is at the same level it closed last week. RSI is close to the oversold area. The 50-day moving average limits the growth on the 1-hour chart. The GBP/USD is below the Moving Averages (50, 100 and 200) on the 4 hour chart. The Moving Averages are moving downwards. All indicators support the bearish trend.
Trading recommendations
Buyers seem not to have enough powder to launch the pair upwards. We expect markets to stay fairly neutral until Mark Carney gives his speech. We will be keeping a close eye on the resistance 1.3500. If the pair fixates over it the instrument may grow to 1.3700 to close the gap. Should the level 1.3200 break down and the pair may drop further to 1.2900.