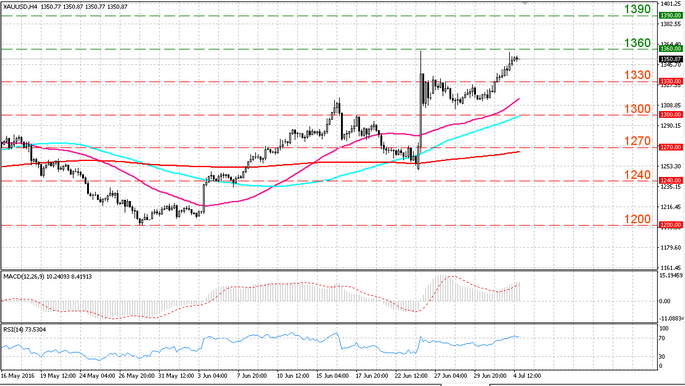 General overview
The gold futures continued to climb, remaining near a two-year high. The fading expectations that the Fed will hike the rate this year supported the precious metal.
Current situation
The gold slightly grew due to the absence of American traders on Monday. The pair gained 1.53% and approached the lately set high at 1360. The resistance is at 1360 now, the support comes in at 1330.
Technically, indicators support the overbought zone. The MACD is growing with strong momentum, the RSI oscillator moved above the level of 70 that is a good bullish signal. The moving averages (50, 100 and 200) are moving upwards, that signals about a growth tendency.
Trading recommendations
The gold metal may continue its growth before Non-Farms. The price may break the resistance 1360 and reach 1390. If we receive positive Non-Farms the instrument may decrease below 1316.