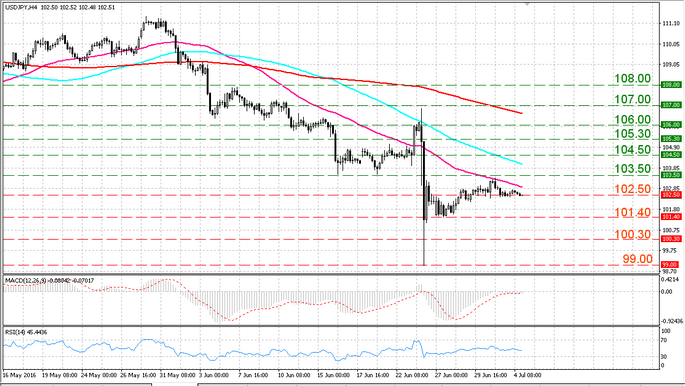 General overview
The dollar slightly changed against other currencies in a quiet Monday while the markets are again cautious and this time it is all about the Fed decision to hike the rate or not. The USD/JPY continued to ignore the growth of "risk appetite" that indicated sellers' presence in the market.
Current situation
The instrument remained at the level of 102.50 on Monday. The market showed low volatile trades due to the Independence Day celebration in the USA. The resistance stands at 103.50, the support is at 102.50.
The indicators (MACD and RSI) are in a red zone. Both indicators do not give clear signals. The USD/JPY is below the Moving Averages (50, 100 and 200) which are moving downwards. The pair tested the 50-day moving and bounced downwards. The 50-day moving is the closest resistance for the pair.
Trading recommendations
The upward bounce potential targets are 103.50, 104.50. If the price falls it will get to 101.40.