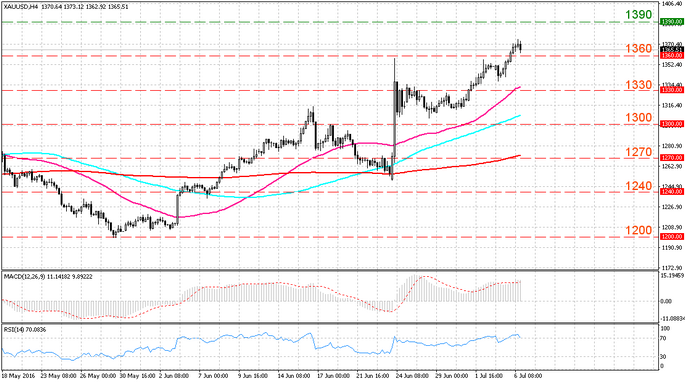 General overview
The gold has been strengthening for 6 consecutive sessions. The metal is in demand due to the risk aversion in the market after Brexit. In addition, investors are waiting for leading Central Banks to start their new easing measures, which will support gold futures.
Current situation
The gold futures continued its growth and set a new high at 1374. This is the highest mark since 2014. After reaching 1374 the pair started a consolidation and decreased to 1360. The resistance is at 1390, the support comes in at 1360.
Technically, indicators remained in a green zone. MACD and RSI grew which is a buy signal. RSI is in the overbought zone. The indicator will give a buy signal till it stays in the current zone.
The moving averages (50, 100 and 200) are moving upwards in the 4 hours chart. The price resides above them. In the 1 hours chart the price is decreasing to the 50-EMA.
Trading recommendations
The fundamental factors support buyers. We presume that any correction will be short-lived. In the potential scenario, the next stop for the XAUUSD could well be around 1390. A break below 1350 will be followed by moving down to the support level 1330.