Monthly: So far, the downward structure remains relevant, so we expect beginning of the downward movement in the direction of the bottom Bollinger band (1907.8)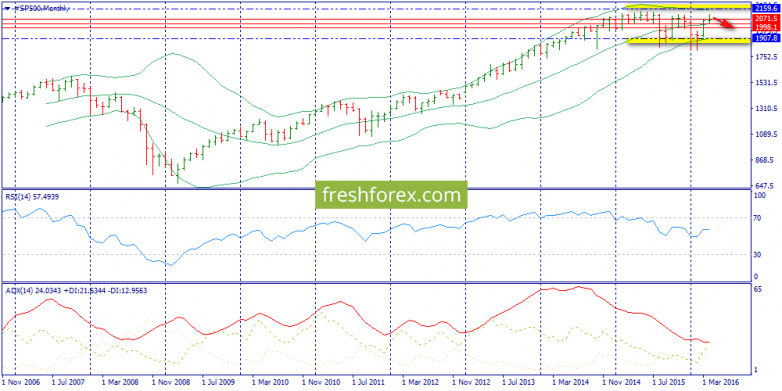 Weekly: confirmation of the downward movement - a significant rebound from the strong resistance zone 2111.7. Goals are 1907.8 and 1848.0.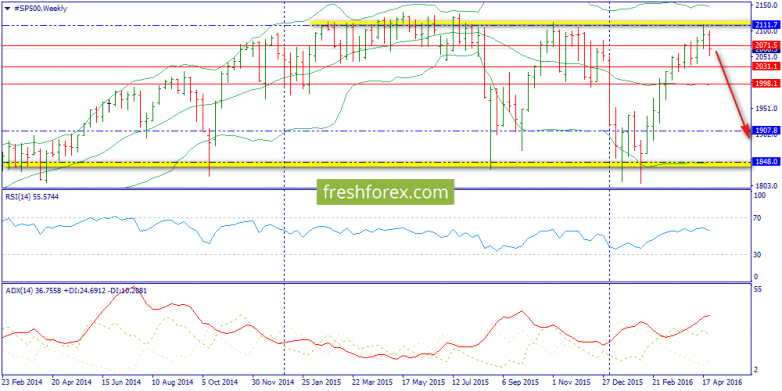 Daily: using yet a weak ADX bears move the price down, so we expect a breakout of the bottom envelope and then a rollback to the middle Bollinger band (2071.8), where t the best entry point down will be found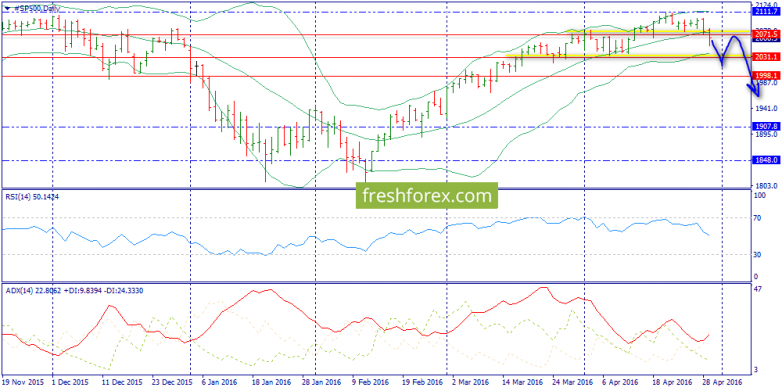 Expectations:
The main scenario - drop to 2000.0, then an upward rollback to 2071.8 followed by start of the mid-term drop to 1907.8
The alternative scenario - a direct drop to 1907.8
solutions:
1. Sales from 2071.8 to 1907.8 ( in the medium run)
2. Sales from the market (based on development of the alternative scenario).
"Brent"
Monthly: the scenario with a continuedcorrection towards the middle Bollinger band (60.52) is fully justified . From there, bears will get a chance to continue an overall long-term downward trend.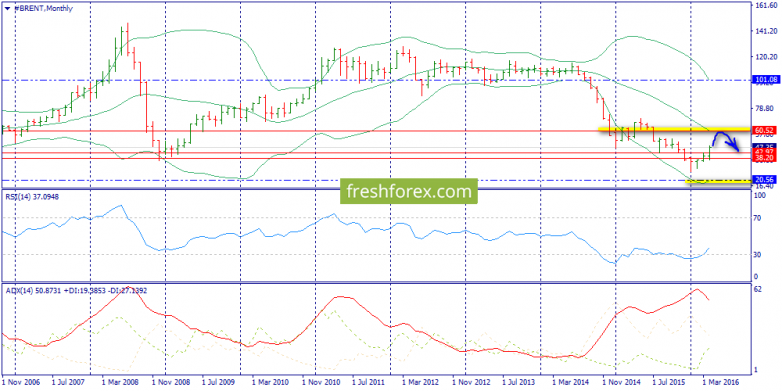 Weekly: Active ADX trend also says about the upcoming surge to 60.52. Upon that, an impulse nature of the movement is possible.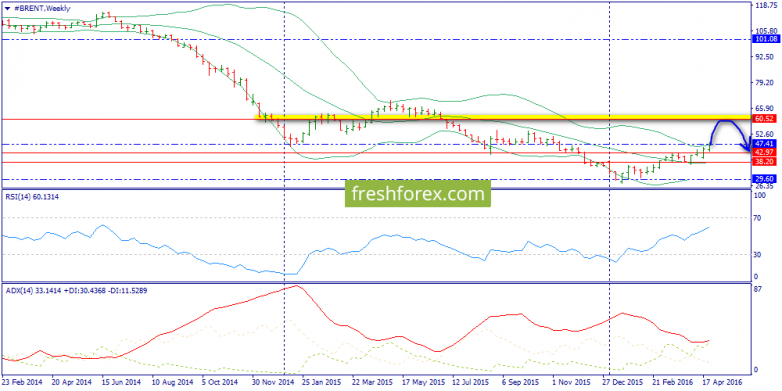 Daily: northern outlook from the Bollinger envelopes, however, there is sufficient overboughtness, so there is another scenario - a rollback to the middle band (42.97, see the blue arrow.)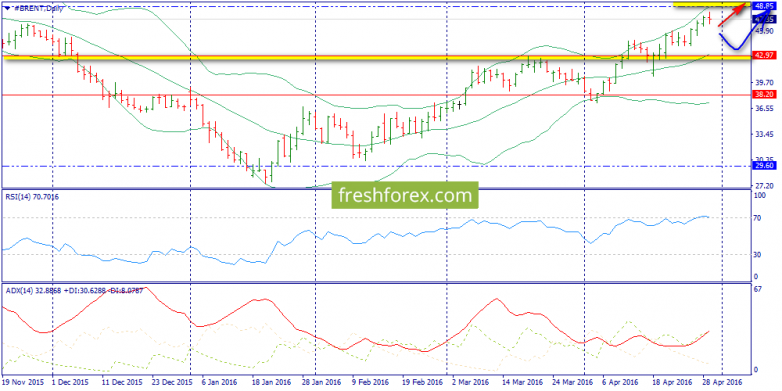 Expectations:
The main scenario - surge to 60.52
The alternative scenario - a downward rollback to 43.00 followed by growth to 60.52.
solutions: we are looking for buy signals on local timeframes with the goal 60.52!
Gold
Monthly: vague parameters of ADX can be related to the two fronts at the same time - northern and southern. But as long as Bollinger envelopes are neutral, we expect a downward rollback from the resistance 1318.31.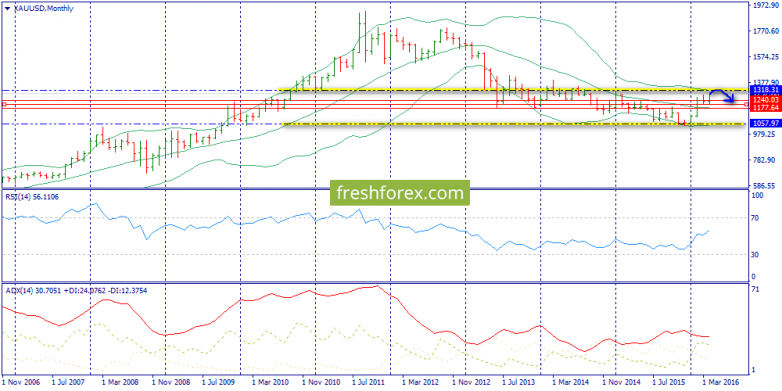 Weekly: the price is about to get overbought but we see that bulls are attacking with the trending ADX, so the resistance 1318.31 may be under load .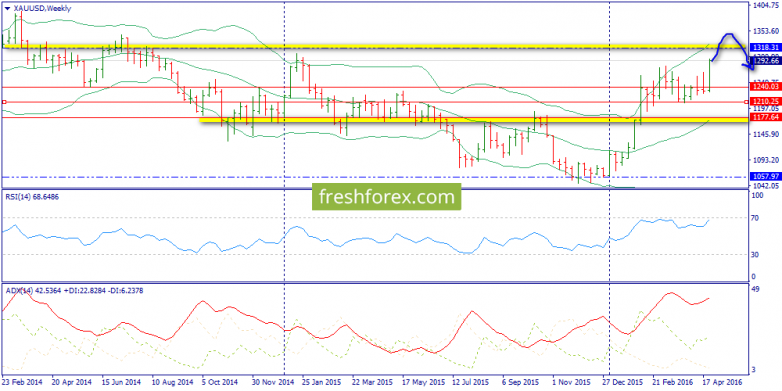 Daily : here is a well-shaped and very strong bullish signal - a breakthrough of the upper Bollinger envelope and all this happened on a very strong ADX. An evident surge of gold! At the same time, the price has made a technical pullback toward the middle band (1240.03)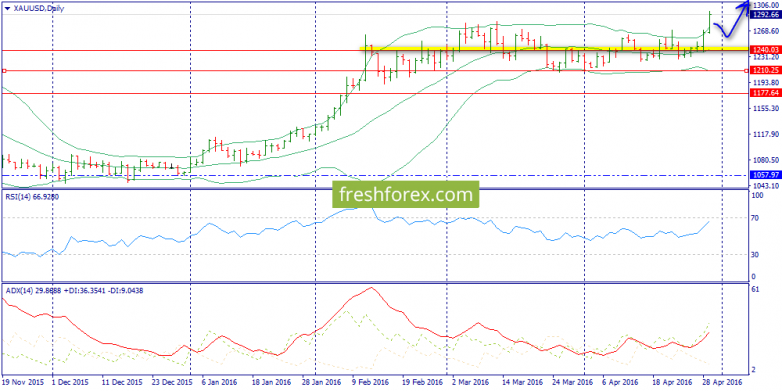 Expectations: growth to1350.0. The price can make a pre-pullback to 1240.03.
solutions: we shall buy gold on downward pullbacks. The best possible area for entry points is 1240.03, but it may be not provided.