S&P500
Monthly chart: oscillator has confirmed bearish divergence accepting the fact that new price highs do not match new highs of demand. This is quite a significant signal of much expected reversal. However, actively moving ADX complicates the situation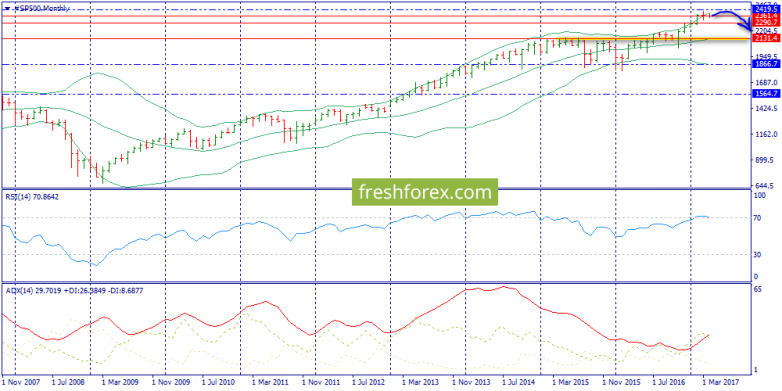 Weekly chart: another evidence of downside reversal possibility is rounding of upper Bollinger band in 2419.5 region. Support levels are around 2290.7 and 2131.4 (middle and lower Bollinger bands).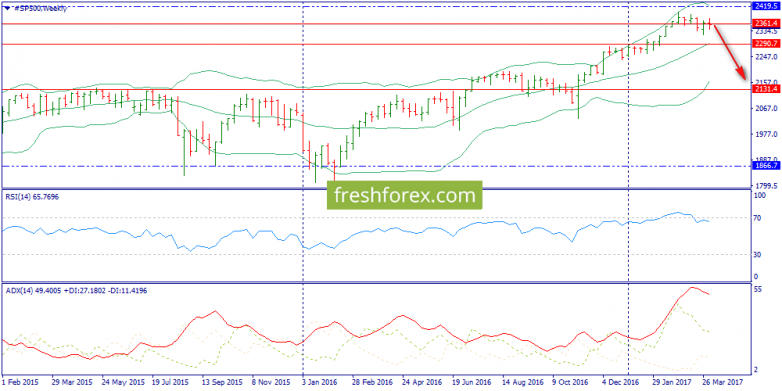 Daily chart: flat trading corridor within Bollinger envelopes range (2338.3-2386.1). ADX shows no signs of activity, so index may stay within these limits during the week.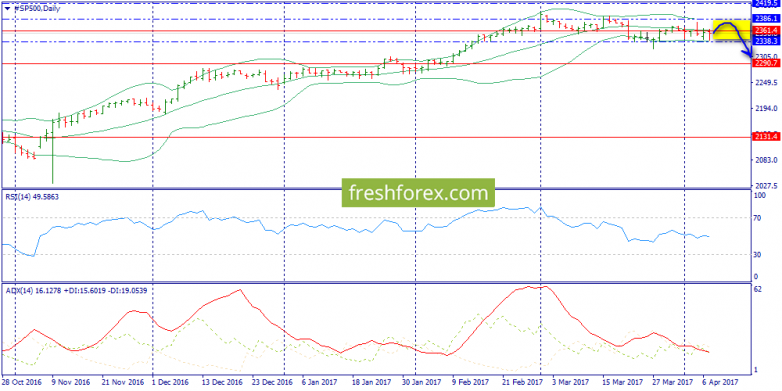 Expectations:
Core scenario - flat in 2338.3-2386.1
Alternative scenario - drop to 2290.7
Trading solutions: consider selling from 2386.1 to 2338.3 and 2290.7
Brent
Monthly chart: oil is in flat. The price is not likely to leave upper Bollinger envelope (47.54-60.92)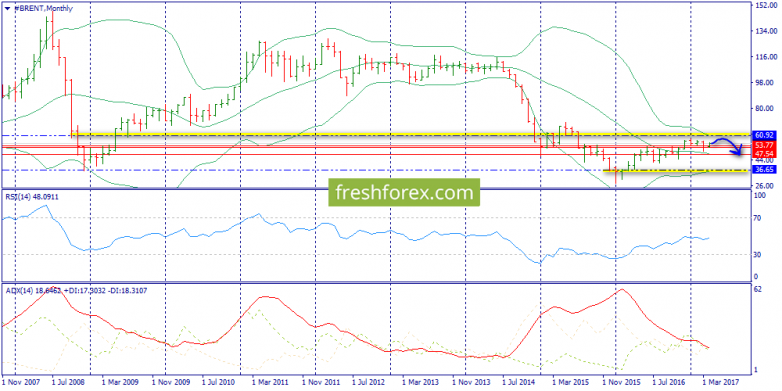 Weekly chart: here we have bullish chart. However, if the pair rises higher to 60.92, big downside rollback may follow.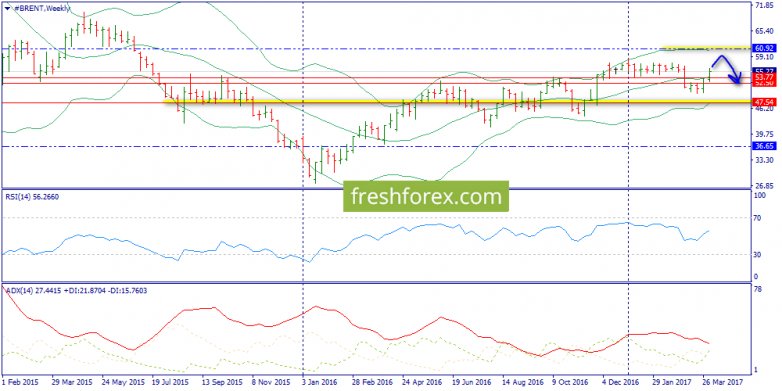 Daily chart: uptrend potential prevails, so we may expect the price to reach resistance level around 57.20. ADX shows bullish trend, so the next target may be even 60.92.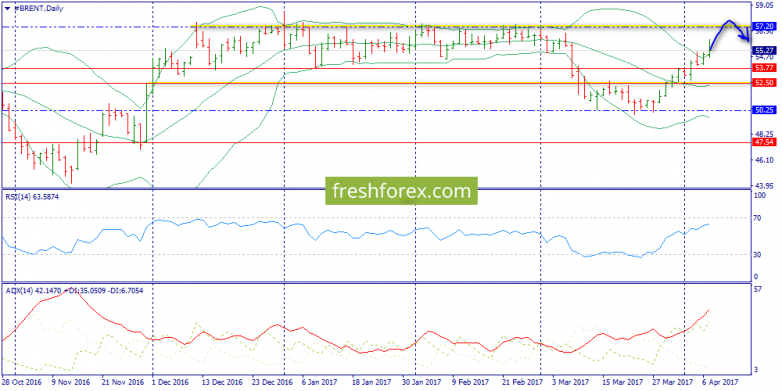 Expectations:
Core scenario - rise to 57.20
Alternative scenario - shot to 60.92 (after resistance at 57.20 is broken)
Trading signals:
1. Consider buying to 57.20
2. Consider selling from 57.20 (only if there are short signals, or consider aggressive selling from this level targeting small)
3. Bulls may try to push the price even up to 60.92
Gold
Monthly chart: ADX shows weak and passive trend, which matches flat market state. We will expect price rotation around middle Bollinger band (1204.58)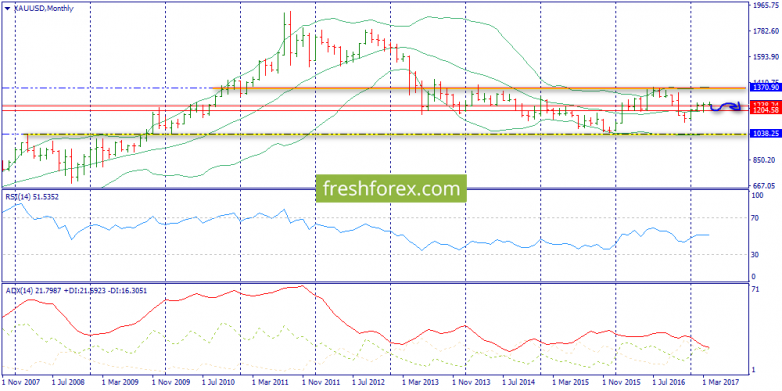 Weekly chart: here we have aggressive trend ADX, so resistance level at 1275.94 (upper Bollinger band) may be under pressure. If bulls will be able to break it, they will have a chance to push the price up to 1338.00 region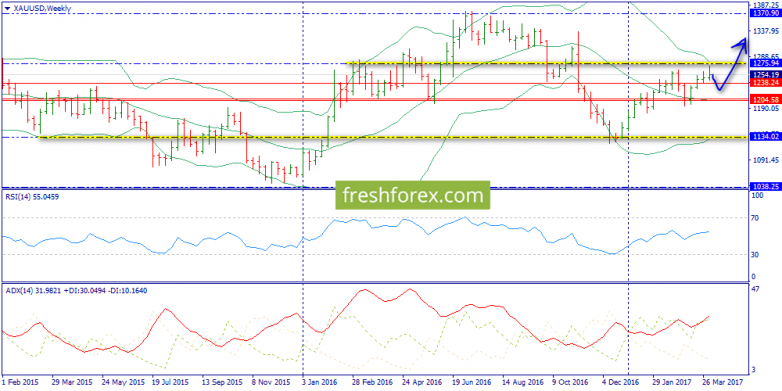 Daily chart: ADX shows growing trend but it is not strong enough yet. We will expect price rotation within upper Bollinger envelope (1238.24-1275.94)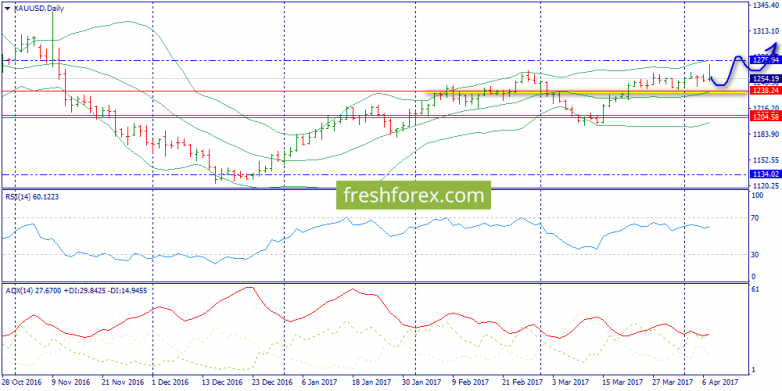 Expectations:
Core scenario - flat within 1238.24-1275.94
Alternative scenario - upside breakout of 1275.94
Trading signals: consider entering long from 1238.24 to 1275.94