21 October 2015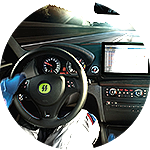 Dear clients,

We remind you that the contest "Race For Profit" run on the 13th of October is at the very height. For the last week some leaders were got ahead by novices. Thus, the competitor Waves, who opened transactions yesterday, was lifted up to the 2nd place!

Do you still think it is too late to start? It is never too late to become the best one!

Meet 4 conditions and finish in top ten that shares the prize fund $110 000:

- take a medal place in the traders rating,

- fix "Gain" index - up to 10%,

- fix "Active, days"

- index - up to 7 days,

- close up to 10 deals.

The helpful maneuvers are available for you:

- trading on several Master accounts,

- using automatic trading systems ("expert advisors"),

- investors' support,
 
- deposit additional funds to account,

- creating public offers.

Do you want to get the main prize for the 1st place $35 000 from FreshForex? Enable maximum acceleration and finish the race as a leader on the 31st of October!

The full terms of participation can be found on the page of the contest.
Good luck in trading!
 FreshForex  – fresh view on money.
Other news: