04 May 2016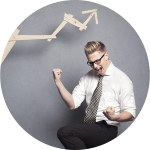 Dear clients,
April has finished and it is time to know trading figures of FreshForex traders.
630 deals in April were opened by the most active trader. He traded with Expert Advisor only with EUR/USD currency pair.
The highest gain of deposit per month is 1087%. A trader worked with NZD/USD currency pair and used pending orders.
$152 860 is the best trading result in month. This trader could transfer bonus "35% on Deposit" in balance, trading with major currency pairs (EUR/USD, GBP/USD, USD/JPY)!
$ -105 402 is the worst trading result. Trader used majors and cross-rates, but large exposure of his deposit led to loss.
$ 2291 is the best deal in April. The order was opened as a short position on XAU/USD with the volume 2 lots and had been in market for 10 hours.
$ -5892 is the worst deal of month. It was opened as early as in the beggining of March with USD/JPY and the volume 0.96 lots.
An overall April result is positive. It makes 63% of successful deals. The number of profitable deals exceeds the number of deals with loss.
To learn more about volatility of trading tools and choose the most appropriate tools you can in the Forex Heatmap.
Maybe, the next month we will read about your trading results. Become the best trader of May!
Good luck in trading!
FreshForex — fresh view on money!
Other news: