06 May 2016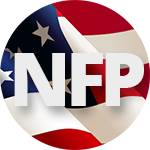 Dear clients!
An important event of the month is the official release by the US Labor Ministry of Non-Farm Payrolls that will take place on May 6 at 12.30 noon, GMT.
Non-Farm Payrolls (NFP) is the employment index in the US non-farm sector. It is one of the crucial macroeconomic figures in the USA and one of the most telling indicator of current conditions of the labor market.
If the figure exceeds expectations, it will be treated as the positive and bullish market for US dollar. The figure below expectations indicate a negative/bearish direction for US dollar.
The employment data released on May 4 by ADP (ADP Non Farm Employment Change) did not encourage traders. Though the most part of experts anticipated a 205-thousand surge in the number of working places in the private sector, it grew only by 156 thousand. Despite this fact, US dollar still takes dominating positions against other currencies.
What figures will investors see? Let's find out today!
By Alexander Goryachev, senior analyst of FreshForex company
Good luck in trading!
FreshForex — fresh view on money!