12 May 2016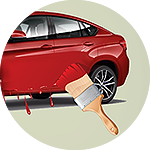 Dear traders,
We promised to announce the start of voting for the color of your BMW X6 M — therefore, the time has come!
Today, on May 12, on the page of the "Great Trading Contest" the voting has begun. You can pick the color of your future car! It is not necessary to follow the ironic phrase of Henry Ford: "Any customer can have a car painted any colour that he wants so long as it is black". When choosing a color, you can follow the taste, choose the color according feng shui or your horoscope — in any case, you will find what you are looking for!
10 colors of the BMW X6 M — choose your own!

Good luck in trading!
FreshForex — fresh view on money!
Other news: