06 June 2016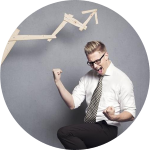 Dear Clients,
We suggest you to learn trading results of FreshForex traders for the last month of spring. Since May, trading volume in the Forex market is significantly reduced for the whole summer — many traders leave for a vacation. However, FreshForex clients keep pleasing us and do not lose interest in trading.
The most active client made 760 trades during the month. He traded without advisors with a preference for major pairs, metals and #DAX30.
The largest increase is 1 650% by a trader who traded majors, cross-courses and shares of Russian companies.
$ 136 099 is the best result of the month. The client traded majors (EUR/USD, GBP/USD, USD/CAD) and oil.
$ -133 141 is the worst result of the month. The trader traded only majors (EUR/USD, GBP/USD, USD/JPY) and cross-courses.
$ -6 987 is the worst trade in May. The short position on USD/JPY with the volume of 3 lots was in the market for 4 days.
$ 5 472 is the trade. It is the short position on AUD/USD with 6 lots, the order was in the market for a minute.
56% of traders finished May in plus, it is the share of clients having deposit from $8 000 and above.
63% trades out of the total volume of trades were profitable.
Learn more about the volatile trading instruments and choose the most suitable for your trading in our Forex heatmap!
Do you want to achieve the same success as our May leaders? Participate in new projects from FreshForex and trade in profit!
Good luck in trading!
FreshForex — fresh view on money!
Other news: