24 June 2016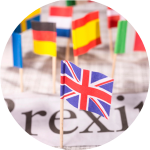 Dear Clients,
Nobody believed it would happen. But, based on results of Brexit voting, after 43 years of a continuous membership in the association of European states UK is leaving the EU, having shut the door with a bang.
Despite high volatility and low liquidity of the market obviously expressed in high floating spreads from the liquidity providers (1.5 - 2 times more than usual) of ECN and Market Pro accounts, FreshForex still maintains fixed spreads on Classic accounts in a strict accordance with specification:
EUR/USD - 2 points;
GBP/USD - 3 points;
USD/JPY - 2 points, etc.
Take an advantage to make your prediction, and enter the market at the lowest possible cost!
We congratulate those traders, who accurately predicted "exit" of the Great Britain from the EU. Besdies, many traders timely responded to the trend on other instruments, namely, an abrupt decline of some currency pairs: USD/JPY, USD/SEK and contracts for the Asian and US indexes: #HSI, #NIKKEI, # NQ100, # SP500, which margin requirements have not changed!
The negative outcome of the referendum caused the collapse of the British currency, which has fallen to its lowest level for thirty years. During the last week, the foreign exchange market has been growing on expectations of a positive outcome of the referendum, but now we will face an extended wave of sales, as traders were not ready for this event.
Collapse of the British pound has inevitably entailed collapse of the currency pairs: GBP/USD lost 10% of its price, whereas EUR/USD has lost 4%. According to the senior analyst of FreshForex Alexander Goryachev, we can expect decline in EUR/USD to 1.08, GBP/USD to 1.30, # FTSE100 to 5600.
However, our traders survived first results of the voting quite well and followed our recommendations and warnings. FreshForex has made the right decision – having promptly and adequately responded to potential risks and protected its Clients against these risks.
What should we expect next? We are looking to the future and staying tuned about the news!
Wish you good luck in trading!
FreshForex — fresh view on money!
Other news: