01 July 2016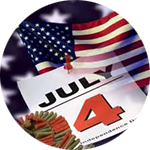 Dear Client,
In connection with the celebration of Independence Day in the USA on July 4, 2016, there will be changes in the schedule of trading sessions.
It is a big federal holiday of celebrating the adoption of the Declaration of Independence in 1776. The Continental Congress declared that the 13 American colonies regarded themselves as a new nation, the United States of America, and no longer part of the British Empire.
Trading schedule:
Instruments
Trading time
July 4 (Monday)
Forex
Regular trading mode
CFD on indexes #DAX30, #ESTX50, #CAC40, #FTSE100, #ASX, #HSI
Regular trading mode
CFD on indexes #DJI30, #SP500, #NQ100, #NIKKEI
Early closing at 20:00 EEST
CFD on precious metals
Early closing at 20:00 EEST
CFD on energies
Early closing at 19:30 EEST
CFD on shares (NYSE, NASDAQ)
Trading is closed
CFD on shares (MICEX)
Regular trading mode
EEST — Eastern European Summer Time (the Company's trading server time).
On July 5, 2016 trading goes as normal.
Please take into account these changes in schedule when planning your activity on financial markets. In the case of liquidity decline of instruments, the company has a right to put trading on hold.
If you have any questions, please, do not hesitate to contact our client support or your personal manager.
Other news: