06 July 2016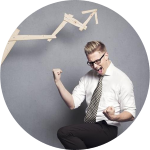 Dear traders,
Summer is the right time for going on a vacation, gardening and just relaxing. In the first month of the hot season, FreshForex clients did not have a rest and traded in full force. We share the results!
The most active client had 1 195 trades in June. He traded on majors and indexes without any help of advisors.
Best trading result of the month is $183 891. The owner of the immodest sum confidently traded currency pairs, metals and indexes.
Female part of traders showed a maguc growth: a client traded on majors and indexes, and increased her deposit in 111 times! Despite six Stop Outs, she was able not only to recover the lost money, but also to increase it in 10 times during a month.
Do not afraid of the market volatility as well! Connect to the new promo "Tradable Bonus 101%" and get up to 101% each time you deposit. Bonus helps you to cope with drawdown and increase trading volume.
-$220 825 is the most unprofitable trade of the month. The client traded on many instruments: currency pairs, indexes, energies and metals. The greatest loss came after GAP on the index #DAX30.
On the golden pedestal of the best trades of June is the sum of $4 600. The trader opened a long position on silver with 2 lots and kept order in the market for about 2 days.
The worst trade of the month was the long position on EUR/USD with the volume of 0.25 lot, which was opened in 2014. The two-year stay in the market ended with loss - $7 146.
Make up your own portfolio of profitable instruments, using our Forex heatmap.
See you in a monthly FreshForex report in July!
Good luck in trading!
FreshForex — fresh view on money!
Other news: