08 July 2016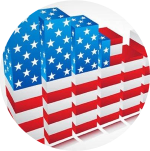 Dear Clients,
The latest data on Non-Farm Payrolls is a delicious piece of cake for any investor, practicing fundamental analysis and trading on news.
The market participants are looking forward to the quarterly report on the change in the number of employees in the non-agricultural sector of the US, which will be released today, July 8, at 12.30 noon, GMT. The market always reacts strongly to these figures, because the number of employees is a direct indicator of strength of the US economy.
The increase in the number of employees strengthens the dollar torwards to other currency pairs. If the situation on the labor market has become worse, we should expect a decline in the dollar price.
Where will the dollar go? Let's find it out today!
Watch important events of the financial market with FreshForex!
The leading FreshForex analyst Catherine Main.
Good luck in trading!
FreshForex — fresh view on money!
Other news: