22 July 2016
One of the leaders of the global car industry has reported a 157% increase in net profit in the second quarter of 2016. As compared to the second quarter of 2015, this growth is up to $2.9 billion.
For the reporting period, the company's revenue grew by 11% against the same period of the last year. "This was an excellent quarter for GM" - says GM cheif and CEO Mary Barra.
Based on the multipliers P/E и P/BV, shares of the company are being traded below the average values. It implies a growth of the shares price up to 33.41. Thus, we can expect potential growth by 4.2%.
Technical analysis:
ADX on the daily and 4-hours' and hourly charts indicates presence of a strong uptrend.
The day before, shares of the "General Motors" confidently broke the strong resistance level 31.75, which is now becoming a strong support level. The next strong resistance levels are at the level of 32.67 and 33.39.
RSI on the daily chart is overbought, which does not allow us expecting a significant growth of quotations.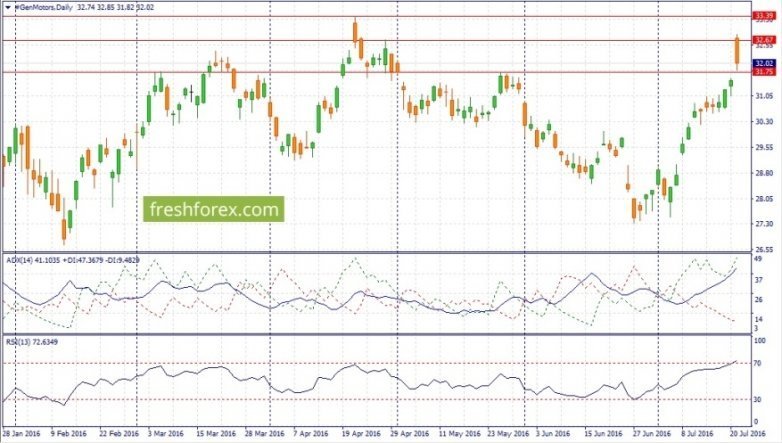 Our trading recommendations:
Buy #General Motors
The first goal: 32.67
The second goal: 33.43
Good luck in trading!
FreshForex — fresh view on money!
Other news: