26 July 2016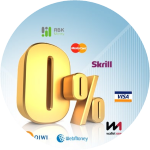 Dear traders,
It is always sad when funding the account, a part of it goes to pay commissions. Some funds which are available for trading become less than you expected.
With the service "Refund of payment systems commissions" you save your money. We will compinsate you 100% of this commission on deposit. Fund your account by the most popular payment systems and all money is yours!
No costs with FreshForex!
Good luck in trading!
FreshForex — fresh view on money!
Other news: