09 August 2016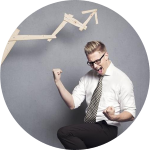 Dear traders,
Traditionally we share the results of the last month of the season. How did our clients finish August? Find it out right here!
The most active client made 1 307 trades per month. He succeeded due to trading on majors and indexes.
Best trading result was $165 103 — oil brought the client the main profit.
An excellent growth is owned by a trader who increased balance to 715% due to majors and exotic pairs.
Bad luck came to a trader who got the greatest loss with trading majors. - $220 649 is the worst result of the month. Do not find yourself in such situation! Connect to "Megarebate" and insure your trades. Every lot of a losing trade will bring you $15!
The first place among best trades of the month goes to the trader with a long position on USD/JPY of 8 lots. It is $5 389!
The last place goes to the short position on AUD/USD with the volume of 1.70 lot. The trader held it open for over a month and ended it up having lost $6 477.
The total results of July is 66% of profitable trades out of the whole volume of trades.
Find your own profitable trading instrument in our "Forex heatmap" — so easy to manipulate it and see an exemplary profit!
Good luck in trading!
FreshForex — fresh view on money!
Other news: