06 September 2016
Dear traders,
Nikkei 225 Index is one of the major stock market indexes in Japan.
Fundamental analysis:
Low inflation in Japan, which has been observed over the last five months, can force the Bank of Japan to undertake stimulus measures on September 21, when the next session of the regulator is scheduled. Advisor to the Prime Minister of Japan, Etsuro Honda also announced that it is time for the Bank of Japan to develop a plan for new actions. Usually, stimulus measures support the local stock market, and in this regard we can expect that before the meeting onSeptember 21, traders will be actively buying Japanese stocks. We can not ignore that the index most important for the Japanese equity market - P/E multiple - is by 52% cheaper than the US index #S&P500 and by 18.6% cheaper than the UK Index #FTSE100. This trend makes investments in the Japanese equity market more attractive.
Technical analysis:
On the day, 4-hours' and hourly charts ADX indicator indicates a strong uptrend.
RSI on the daily, 4-hours' and hourly chart is not overbought, which allows to keep Buy positions.
Last week, the index of confidence struck a strong resistance level of 16933, which has now become a strong support level. The next strong resistance level is at 17251.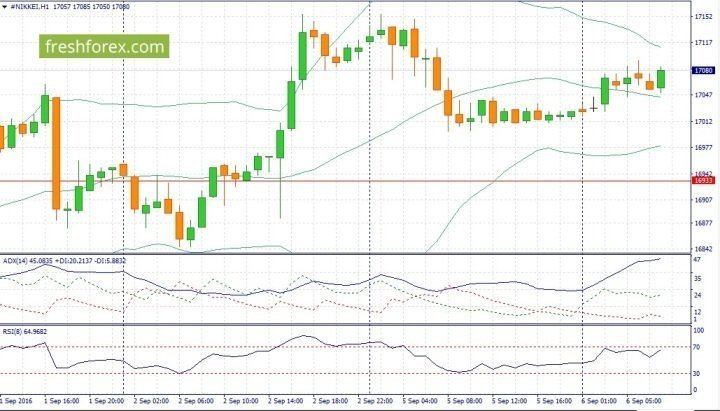 Our trading recommendations:
Buy #NIKKEI
The first goal: 17250
The second goal: 17470
Good luck in trading!
FreshForex — fresh view on money!