07 September 2016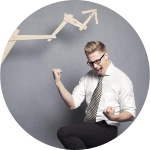 Dear clients,
Summer has come to the end and failed to satisfy our expectations of high volatility in August. This month will be recorded as the "laziest month" for the last 7 - 8 years. However, clients of FreshForex company demonstrated excellent results, some of them surprised us with a choice of trading instruments. Let us share with you their results!
The largest increase of balance was 718.50%! The trade involved major pairs. The main profit was received by a client from 1 lot on EUR/USD, which had been on the market for about 2 days.
1335 transactions per month - result of the most active trader. He traded various kinds of CFDs with the help of EA and in addition he opened transactions manually.
$136,433 - the best result reached in August. The leader's portfolio did not include only popular pairs, but also CFD on shares (#Sberbank) as well as CFD on indexes (#SP500, #DAX30).
The client who traded with majors, indexes and cross rates was not quite lucky. The greatest loss was received by him on the trade with #DAX30. - $232,206 - the worst result of the month.
Best trade of the month was the short position on EUR/USD in 7 lots. The trader had spent on the market about a minute and earned $3080.
There were 65% profitable trades in August.
Many traders surprised us with their choice of professional tools this month — namely, contracts for difference (CFD).
Do you wish to repeat success of the best traders in August? You can do it easily! Deposit without fee and use the saved money to trade.
Boost your Autumn profit with bonuses from FreshForex!
Good luck in trading!
FreshForex — fresh view on money!
Other news: