07 September 2016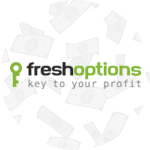 Dear traders,
You are among the first ones to know that your favorite broker FreshForex has launched a new service — FreshOptions!
FreshOptions - is a revolutionary binary options service enabling you to earn easily and quickly. It does not require a long time to be studied: no intricate market analyzes and economic knowledge. You simply predict price movement, and if the forecast is correct, you will get profit.
FreshOptions offers the highest payout percentage for a successful deal — up to 86%. Only FreshOptions will return you up to 15% of investments for a wrong prediction.
Trade with binary options, use your Forex trading experience and earn even more.

FreshOptions — key to your profit.
Other news: