07 October 2016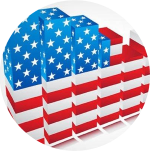 Dear traders,
The US report on employment is one of the key market events. Non-Farm Payrolls figures will be released today at 12.00 noon, GMT.
The data from the APD showed that September's employment level in the US private sector rose significantly less than it was expected. However, we can expect positive data on NFP. The reason is that employment release by the ISM in the service sector published on Wednesday showed maximum growth since November 2015. This proves a high growth of employment and we can expect that Non-Farm release is better than the median forecast, which in turn will boost demand in US dollar.
How will US dollar behave? We'll find it out today!
By senior analyst of FreshForex, Catharine Main.