01 November 2016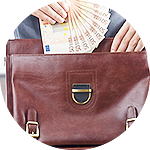 FreshForex takes care of its customers and has formed a range of investment portfolios called
Buy, Hold, and Withdraw Profit
. They allow earning on Forex with less time spends.
An investment portfolio combines some of high-profit and the most attractive assets. This is a great opportunity for all traders who want to protect their assets and get profit more than any bank interests. If one asset in the portfolio is losing, your losses will be recovered by profit from other assets.
Every investment portfolio contains instruments with the optimal proportion of potential risks and earning power ratio. This allows reducing your risks.
Start making profit with the classical strategy which the stock market has started from!
he detailed information about the investment portfolios and their earning power ratio you may read on our website. 
Please pay your attention that there were some changes in the company's regulatory police:
·         The definition of investment portfolio in Terms and Definitions and points 2.6, 2.7, 10.7, 10.9 in Regulations of Trading Orders were added.
·         The definitions in point 4.2. of Client Agreement and points 4.11 и 10 Regulations of Trading Orders were changed.
You may check out the actual versions of the documents on our website in the section
Documents
.
Wish you good luck in trading!
FreshForex — fresh view on money