03 November 2016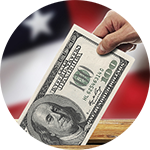 Dear traders,
The consequences of Brexit is still being felt, but ahead of presidential elections in the United States we can expect another wave of volatility in financial markets. Recall that movement for the pound, more than 1500 points was recorded in the past. However, FreshForex clients have withstood this storm.
Please note that FreshForex company does not enter the provisional increase in the margin requirements!
What to do in this situation? It is the perfect time to earn with FreshForex. Make a correct prediction on the outcome of the race and use the volatility to your profit! With the victory of the Democrats, in the person of Hillary Clinton, there is a high probability of growth of the stock market and the dollar. You may earn on CFDs on stocks, indices or currency pairs, depending on which candidate wins.
We take care about our customers, so we highly recommend all traders to be careful:
to maintain margin level not less than 500%;
use protective Stop-loss order;
at your discretion, if necessary, adjust the amounts of current open positions.
Note that in the case of a significant increase in volatility in the financial markets when conditions change the company's liquidity providers may: increase in spreads and order levels, changes in the margin requirements for all instruments as early for open positions and for new, the introduction of the "Close only" regime or suspension of trading in accordance with the governing documents of the company.
Please consider this information while planning your work on financial markets. If you have any questions, please contact our support team or your personal manager.
We wish you success and stability in trading!