07 November 2016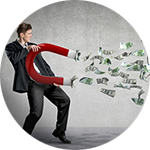 Dear clients,
In October, the market showed high volatility boosted by anticipations around the US presidential elections as well as expectations that the interest rate will be raised by the US FED. How did traders of FreshForex make use of it? Let's find out!
The most active client placed 1 728 trades per month. He traded with majors with the help of several EAs and opened trades manually.
889.72% - the highest increase for the past month. This is the result showed by the client, who applied for the "Tradable Bonus 101%". He received the bonus and achieved a great result! He traded with majors, oil and gold.
$203,902 - the best result of October showed by a client who traded only with majors.
The first place among the best October deals belongs to the result $14 873. The trader opened a short position with GBP/USD and 9.9 lots. He had been keeping the order in the market for about two days.
The worst deal of the month was a long position with GPB/USD and 2.6 lots. The trader had been keeping it open during a month and as a result he suffered a loss of $20,176.
62% trades were profitable in October. Traders demonstrated excellent results.
To learn more about volatile trading tools and choose the most suitable ones, you can always check our Heatmap!
Good luck in trading, will meet in November!