18 January 2017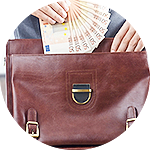 Dear traders,
Do you know that if you would have use investment portfolios in trading you would have earned €2169.77 since 12/14/2016?
This is a real example of FreshForex client; he reached such a result in less than a month by three trades of 0.5 lots!
A year ago we purchased shares of successful companies operating in different sectors of the market (US IT companies, popular internet companies and the biggest Russian companies.)
We turned investment portfolios into effective trading instrument by matching the shares in the most efficient way. Two months ago we offered our clients to take advantage of this instrument and now share positive results.
Join successful traders right away!

Good luck in trading!
FreshForex — fresh view on money!