19 January 2017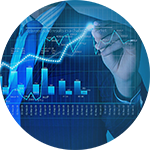 Dear traders,
We invite you to look over trading forecast of leading FreshForex analyst Alexander Goryachev about the upcoming ECB decision on interest rate.
This Thursday, January 19th at 12.45 GMT European Central Bank's decision on interest rate is going to be published. Inflation in EU in 2016 increased by 1.1%, that is the highest rate over the last four years. Loose monetary policy of ECB introduced in 2014 has borne fruit, so one can expect Mario Draghi to present positive forecasts on EU GDP. Positive forecasts will have an impact on Euro price. Against this background, EUR/USD and EUR/GBP might show increase in quotations.
FreshForex experts provide reliable forecasts. Monitor closely the situation on market together with Fresh Forecasts and earn on the key economic events!

Good luck in trading!
FreshForex — fresh view on money!