26 January 2017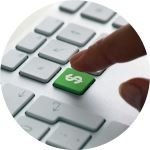 Dear traders,
Gross domestic product (GDP) is an overall rate of economic activity. This Friday, January 27th at 1.30 p.m. GMT Advance US GDP data for 4 quarter of 2016 is going to be released.
We invite you to look over trading forecast of leading FreshForex analyst Catherine Main on this matter:
"Considering uptrend on ISM Non-Manufacturing and Manufacturing indices a positive release may be expected. To that end, there may be decrease in EUR/USD and GBP/USD quotes, on the contrary, USD/JPY and USD/CAD may show an increase in quotes."
FreshForex experts provide reliable forecasts. Monitor closely the situation on market together with Fresh Forecasts and earn on the key economic events!

Good luck in trading!
FreshForex — fresh view on money!