30 January 2017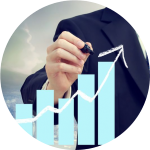 Dear traders,
January is a month of corporate reporting for many world largest companies and financial regulatory bodies who release financial results for Q4 2016. Therefore, market shows high volatility and it's time to make money using FreshFOrex experts' trading forecasts and recommendations!
Majority of FreshForex trading forecasts have proven to be true, and this is not just words! For example:
Negative forecast on US Inventories of Crude Oil for January 11th, 2017 was correct: Brent and WTI decreased by 1%;
Positive forecasts on US Retail Sales and Consumer Price Index for January 13th and 18th, 2017 saw USD go up to its competitors' level;
Our leading expert's timely forecast on Morgan Stanley shares increase allowed many traders to gain profit: price was at 42,21 at trade opening, during the first hour price went up to 43,13 (according to the forecast 43,16 was expected). The shares reached 43,16 on January 25th (trades finished at 43,85).
The facts speak for themselves, follow FreshForex experts' forecasts and earn on key economic releases!
Please note, that even a cumulative forecast is not a guideline for trading. FreshForex news and forecasts show our experts' personal opinion.

Good luck in trading!
FreshForex — fresh view on money!