15 February 2017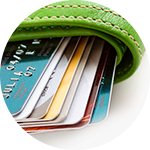 Dear traders,
we bet you $100 you won't be able to count in your head in 1 minute what withdrawal commission you will pay by majority of brokers.
FreshForex cancels all the deposit commissions and offers low fixed withdrawal commissions on most payment systems!
There is no commission on withdrawing profit using FreshForex Mastercard and some other payment systems. You can find all the current commission sizes on our website.
Withdraw your money with no additional calculations in just 10 minutes!

Good luck in trading!
FreshForex — fresh view on money!