03 March 2017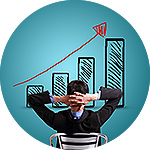 Dear traders,
ISM Non-Manufacturing Index along with ISM Manufacturing Index is one of the most important and reliable economic growth indicators. Index data is published monthly and the nearest data report is scheduled on March 3rd at 3 p.m. GMT.
The leading FreshForex analyst Catherine Main commented on the oncoming report as follows:
---
"This indicator is very important for Fed, and we all know that Fed meeting is scheduled on March 15th. In the last data release CB Leading Index showed increase by 1.86% per annum against 1% per annum last month. That means increased business activity. According to CB Consumer Confidence is at its 15-year high now. Such strong data allows us to count on index growth which would be positive for dollar quotes. We may expect decrease in EUR/USD, GBP/USD quotes and increase in USD/TRY, USD/JPY, USD/CAD quotes."
---
FreshForex experts provide reliable forecasts. For instance, ISM Manufacturing Index strong data release forecast on March 1st has proven to be right.
Monitor closely the situation on market together with Fresh Forecasts and earn on the key economic events!

Good luck in trading!
FreshForex — fresh view on money!