09 March 2017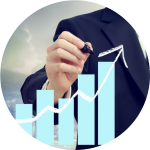 Dear traders,
We invite you to look over trading forecast of leading FreshForex analyst Catherine Main about the upcoming ECB decision on interest rate during ECB meeting on March 9th at 12.45 noon GMT:
---
"The rate is likely to remain the same, as ECB Chair Mario Draghi has not announced any changes in 2017. It would be interesting thereby to watch ECB press conference. In spite of the fact, that Eurozone February inflation reached the rate of 2% per annum, ECB does not seem to be happy. The thing is that core inflation rate is 0.9% when it should twice as high. Such imbalances concern Mario Draghi, and we may expect him to give negative comments on the issue. Our trading forecast: decrease in EUR/USD, EUR/GBP quotes."
---
FreshForex experts provide reliable forecasts. Monitor closely the situation on market together with Fresh Forecasts and earn on the key economic events!

Good luck in trading!
FreshForex — fresh view on money!