16 March 2017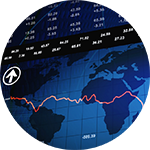 Dear traders,
Central Banks meetings continue. Press-conference of Bank of Japan is scheduled on March 16th at 6.30 a.m. GMT.
Leading FreshForex analyst Catherine Main tells what to expect from this meeting:
---
"Bank of Japan is not able to cope with an objective to push inflation up to 2% level. Even last year significant oil price increase couldn't do the job. What may help? Only yen devaluation! Over the last six months JPY/USD rate has decreased by more than 13% and another drop in quotes may help Japanese Central Bank to rise inflation rate.

On this meeting verbal interventions by the Governor of Bank of Japan Haruhiko Kuroda may be expected. They will cause a new drop in Japanese currency quotes. Trading forecast: slowing down of USD/JPY, GBP/JPY quotes rise may be expected."
---
FreshForex experts provide reliable forecasts. Monitor closely the situation on market together with FreshForecasts and earn on the key economic events!

Good luck in trading!
FreshForex — fresh view on money!