20 April 2017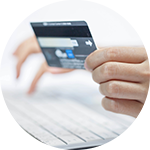 Dear clients,
To make trading with FreshForex more comfortable we offer our clients to deposit and withdraw funds with FreshForex MasterCard with NO COMMISSIONS charged!
This deposit/withdrawal option is available to all the FreshForex clients, and withdrawal application processing takes only 10 minutes during the company's working hours.
Check out the detailed instruction on Deposit and Withdrawal page.
To get even more profit you can use Tradable Bonus 101% and increase your deposit at each top-up!

Good luck in trading!
FreshForex — fresh view on money!