21 April 2017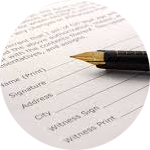 Dear clients,
in order to improve quality of service and to ensure safety of Client's funds, the Company has made changes to its Regulatory Documents in line with the market trends.
The changes were made in accordance with paragraph 12.2. of Client Agreement and come into effect on April 22, 2017.
We would like to remind you that conducting trade and non-trade operations after coming into effect of renewed Client Agreement and its annexes means full and unconditional acceptance of renewed Documents.
We recommend you to read updated versions of Regulatory Documents carefully.
Good luck in trading!
FreshForex — fresh view on money!