05 May 2017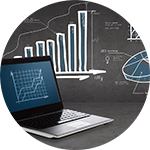 Dear traders,
April saw significant price volatility on market and FreshForex clients earned on first round of presidential elections in France and head spinning rise of pound due to Theresa May calling a snap general election!
Clients' Results
The highest funds growth of the month is 1 361.95%, client traded on major currency pairs.
$3 793.4 is the most profitable April trade! It was a long 1-lot position on EURUSD, order was on market for about 4 months.
The most active client made 990 trades per month on EURUSD manual trading. That's the second month when this trader makes the largest number of trades!
$114 970 is the best trading result of the month reached by trading on European indices, including recently launched Spanish index #IBEX35.
64% of trades were profitable!
1/3 of clients with deposit of $3 000 and more closed the month with profit.
Highly Profitable Instruments of the Month
GBPCAD turned out to be the most profitable pair of April. One could have gained $27 516 for 3.86-lot trade.
GBPNZD – this instrument's profit could have been $24 912 for 3.86-lot trade.
GBPAUD keeps up – possible profit could have been $24 571 for 3.86-lot trade.
And EURCAD showed potential profit of $22 918 for 4.59-lot trade.
*All the profit is counted for $1 000 deposit.
We provide detailed information on profitable instruments on a regular basis. See Forex Heatmap.
If you have any questions, don't hesitate to contact us:
Good luck in trading!
FreshForex — fresh view on money!