05 July 2017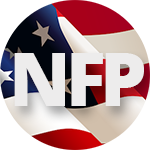 Dear clients,
Do you know that average retun of a trader on the previous NPF release was 500 usd per one lot? You have all chances to repeat this success!
Moreover, we want to help you to earn on this news release! Before July 7 deposit the amount from 200 usd and receive 50 usd as extra bonus with 101% Tradable Bonus campaign. Example: you deposited 1000 usd. Your main bonus will be 1010 usd 50 usd extra bonus.
Be ahead of the market together with FreshForex!
For reference:
Non-Farm Payrolls (NFP) report shows the number of work positions emerged in a month in the USA without account of farm positions and gives traders good opportunities to bank on it.
Steps to get extra bonus money:
- Make sure that your trading account is verified and linked to  101% Tradable Bonus campaign.
- To get extra 50 usd bonus, contact us using the feedback form in the Client Area. Requests can be processed within three hours of business time of the company.
If you have any questions, don't hesitate to contact us:
via Online support chat;
via ticket system in your Client Area;
by email info@freshforex.com;
by filling out special form on the website;
or by phone 442070992124.
Good luck in trading!
FreshForex — fresh view on money!