19 July 2017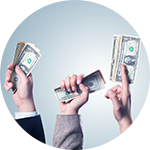 Dear traders,
Apart from earnings season this week gives a nice chance to earn: release of US companies oil inventories report and ECB press-conference. As you know, both these events often cause high volatility.
The leading FreshForex analyst Catherine Main commented on the US Oil Inventories report scheduled on July 19 at 2.30 p.m. GMT as follows:
"During the last two trading weeks oil inventories have reduced by 13.86 million of barrels, which turned out to be a nice surprise for investors. This tendency is expected to continue, as it's the middle of vacation season in USA. Considering all this, rise of Brent and WTI by 1% may be expected."
ECB press-conference will be held on Thursday, July 20 at 12.30 noon GMT. Leading FreshForex analyst Catherine Main tells what to expect from this meeting:
"Traders are anticipating hints about scaling back QE program. Mario Draghi may leave market disappointed commenting on low inflation rate that makes impossible scaling back of bonds purchasing program. On Thursday traders can go short on EUR/USD, EUR/GBP and EUR/JPY."
____________________________________

Thank you for following our news! We are glad to offer you Tradable Bonus 101%, that can be used in trading without restrictions.
____________________________________
Use FreshForex Heatmap of the most volatile instruments and get profit every day!

Other news: